FL based Florida Tents & Events would like to make Florida residents aware of their event and party rental services. Florida Tents & Events has a wide selection of event-focused items for rent from trusted brands that are perfect for almost any event imaginable, from camping trips, picnics and church events to graduation parties, school carnivals and more. They are widely considered the leading bounce house and party rental company in Florida, and they have built this reputation by offering high quality rentals at excellent rates. The company's website can be found at https://www.floridatentsandevents.com/.

"The thing that sets Florida Tents & Events apart from the rest is our large inventory of high quality inflatables and attractions that are licensed and insured in the State of Florida," the company says. "All of our inflatable rentals are cleaned and sanitized before every rental and are manufactured from lead-free vinyl for your children's and guests' safety. We also have a returning customer loyalty club, and when you like our Facebook page, you can keep up with awesome deals found only on our website. We provide on-time delivery service throughout Orange County, with service to communities like Orlando, Kissimmee, Winter Garden, Ocoee and many more."

Customers often comment that they appreciate how much the team appears to love what they do, especially since they make it a point to ensure that this is evident in the quality of service they provide. Putting smiles on people's faces by helping them craft their special occasions to perfection is why Florida Tents & Events do what they do. By making it as easy as possible to get the equipment they need for a special event, Florida Tents & Events ensures that customers never have to stress about planning a party or any other event. The company is the one-stop-shop for all event-related items, and customers always become repeat customers after an experience with Florida Tents & Events. Their goal is to make the planning of any event as easy as making one quick call and then having fun as Florida Tents & Events takes care of everything else.

A number of people have made use of the company's services to put together all kinds of events, and many have in turn found themselves delighted with the results. Many of these customers have left excellent reviews of the event planning service on the company's Google profile as well as their Facebook page, which can be found at https://www.facebook.com/Floridatentseventsinc.

One customer says about their experience with the company, "Florida Tents & Events is the greatest company I've used for all my events. They are always on time when I need them to setup a tent, chairs and tables and they are always going above and beyond on any services they provide, and also with time and amount of days of rentals. I will continue to book this company for all my future events. Contact them today to book your event!"

Another customer says in their glowing review, "Absolutely amazing! They arrived on time and immediately set everything up. Within minutes, my daughter was bouncing and playing before the party even began. My daughter and her friends had the time of their life bouncing around and sliding into the pool. The staff was friendly, pleasant and easy to talk to. I will definitely be using them for future events and would recommend them to anyone who asks me about bounce houses. Thank you for helping make my daughter's day amazing!" See more here: https://goo.gl/maps/6DS9jUjEVjXfThYG9.
Florida Tents & Events appreciates all the positive feedback they receive, but they are always looking for new ways to improve their services as well. As such, they encourage customers to get in touch if they have any concerns, inquiries or special requests at any time. Their team can be reached via phone or email, and the company makes it a point to respond quickly when customers get in touch through social media.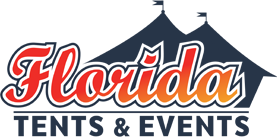 from
https://www.pressadvantage.com/story/53848-florida-tents-events-offers-premium-brand-event-and-party-rentals